XURXO ORDOÑEZ (Flutes, hornpipes & medieval bagpipes)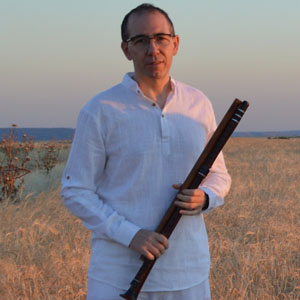 He was graduated at the Conservatory of Madrid with the instruments of flute and classical guitar. Since 1995, he has been participating in many and varied courses of ethnomusicology and old music, such as with Alban Faust (Sackpipa and Schäferpfeife), Dominik Schneider (medieval and Renaissance flutes), Manuel Perez and Enrique Almendros (three-hole flutes and drums) Jaime Muñoz (Old and traditional Flutes), Vaselin Hasabaliev (bagpipe and Kaval), Bruno Villamor (Bagpipes) etc.

During a long time, he has made some of the instruments he plays in Jesus Reolid's workshop.

He has played in many groups and formations: Nuba, Collegium Vocale de Madrid, Sementeira, Kalendula, Balbarda, Eulian, Terra Meiga etc. , with whom he has recorded several CDs.

MILENA FUENTES (Fiddle & Arc Psalter)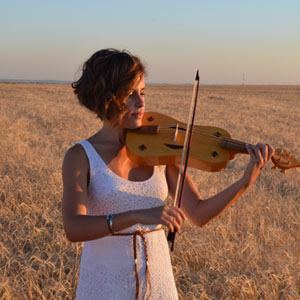 She was graduated as Violin Superior Teacher Grade at the Music Conservatory of Vigo in June 2002 and obtained in November of that year a 1st Honorable Mention.

In 2001 she joined the School of Advanced Musical Studies (Santiago de Compostela), where she received violin lessons from Professor Nikolai Velikov. She has studied with teachers like Laura Quintillán, Nikolai Velikov, Alfredo Garcia Serrano, Rolando and Christian Howes Pruzak. She has received courses in the String Summer School "Ciudad de Lucena" (with Vila Isabel, Jennifer Moreau and Carlos Gallifa), master classes of violin technique and interpretation (with Igor Alexandrovich Frolov), Course of violin technique and interpretation (with Jorge Risi) Course "Introduction to twentieth-century music" (with Ana Ivana Mollo and Zugasti) and the teacher training course "Making music from the beginning" (with Wolfgang Hartman).

She Collaborates with the National Youth Orchestra of the RDP Portuguese, Andalusian Youth Orchestra, Royal Philharmonic Orchestra of Galicia, the Philharmonic Orchestra of Bilbao, Extremadura Symphony Orchestra, the National Youth Orchestra of Spain, the School orchestra Madrid Symphony Orchestra, the Choir of the Universidad Carlos III, Toledo Philharmonic Orchestra, the Academic Orchestra of Madrid, and the Orchestra of Spanish Radio and Television (RTVE).

Now she is member of the Ojos Negros duo (guitar and violin), the band Trécula of Arabic and Mediterranean music, and Nuba Group. Since 2005 she combines different musical activities with her work as violin teacher at the Municipal School of Pinto.



JAIME DEL AMO (Citole, Medieval lute, Zanfona, guiterne, psalter and Conducting)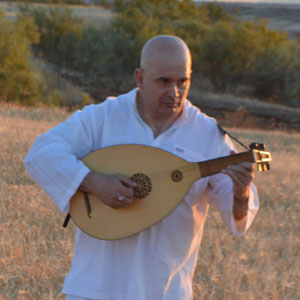 He has studied in the Real Conservatory of Madrid, in Campo de Criptana Conservatory (Ciudad Real City) and Arganda del Rey Conservatory, where he was graduated as plectrum instruments teacher with highest qualification.

He began his plectrum studies with José Ramón García, continuing them with Caridad Simón and Jose Maria Villafranca.

He has taken part in master classes of lute and mandolin organized in Logroño conducted by Pedro Chamorro and Ugo Orlandi. He has taken part of several courses of Medieval Plectrum Instruments (citole, spanish medieval lute and medieval guitar), conducted by Jose Luis Pastor and organized by the Old Music Festival from Gijón, Old Music Festival from Aracena and the Vihuela and the Lute Societies.

He has been member of the group of Spanish lutes "Gaspar Sanz" and of "Tablatura Orchestra", with whom he has colaborated during 10 years, playing in the most importants national plectrum festivals and in Baden-Baden (Germany) and Santarem (Portugal). Courrently he is member of the Altisidora Group from Campo de Criptana (Ciudad Real) and Trío Assai with whom he has recorded three albums and has performed numerous concerts throughout the Spanish territory, and U.S.A., Cuba , Venezuela, Italy, Portugal, France, Belgium, Germany, Bulgaria, Israel, Libya, Finland, Norway and Russia.

He has collaborated several times as soloist with the Chamartín Symphony Orchestra at the Spanish National Auditorium and with the Orchestra of the Teatro Real in Madrid.



WAFIR SHAIKHELDIN (Oud & Percussion instruments)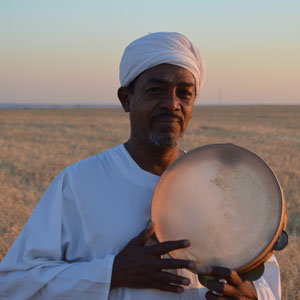 Born in Kurdufan, he studied at the Conservatory of Khartoum and he made his first steps as professional playing the accordion in groups like Almubarak Abdul Aziz, Mohammad Al Amin and Abdul Karm Al Kably. He plays the Arabian lute, Sudanese bongos, the saz, viola, rabab and a variety of percussion instruments like tambourines, drums, metal castanets (karakeb, etc.).

Since his arrival in Spain, over a decade ago, he has faced the most diverse unexplored musical areas. The old music ensemble of Eduardo Paniagua, Hevia, the Musgaña, Joaquin Ruiz (flamenco), the Senegalese Djanbutu Thiossane, "Radio Tarifa" or "Amistades Peligrosas". Not forgetting, of course, collaborations with Rasha, her sister, and with The Black Band, with whom he shared, from beginning to end, his whole career, proving many of the issues that sail today for "The Blue Nile" (his latest album).

"Blue Nile" fully portrays the rich personality of Wafir S. Gibril. Mariem Hassan, Nayim Alal, Iain Ballamy, Josete Ordoñez, Pedro Esparza, Vincent Molino, Ivo and Nasco Hristov, Sebastián Rubio, Salah Sabbagh, among many others, have contributed their bit in this job.