History
Musicantes arises looking to deepen the knowledge and performance of Medieval music and early Renaissance. The group is composed by Xurxo Ordóñez (flutes, medieval bagpipes and hornpipe), Milena Fuentes (fiddle), Jaime del Amo (citole, medieval lute, zanfona, guiterne and conducting) and Wafir Shaikheldin (percussion).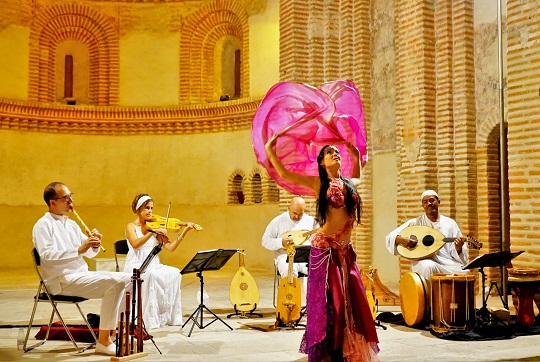 They have played in the Festival Clásicos en Verano de la Comunidad de Madrid, Festival de Música Antigua de Alarcos, Ciclo de Música y Patrimonio de Teruel, Festival de la Ribagorza, Jornadas Medievales de Oropesa, Festival de Música Antigua y Sacra de Getafe, Ciclo Musica Nas Ruinas de Pontevedra, Festival Veranso en Cuenca, Festival Internacional de Música Antiga "Fora do Lugar" (Portugal), Festival de Música Provincia de Palencia, Festival Almagro Enclave de Música, Festival de Música Antigua de Almodóvar del Campo, Muestra de Música Antigua Castillo de Aracena, Festival Internacional de Música Antigua de Soto del Real, Jornadas Musicales de Calatañazor, Festival Internacional de plectro de Alcalá de Henares and Manzanares el Real´s Castle, always getting a great reception and great reviews from both early music specialists and the public.


The instruments used (citole, medieval lute, Arabic lute, rebec, psaltery, percussions, flutes, bagpipes and fiddle), are reproductions of original instruments of this period, inspired by the Spanish iconography, as the Portico of the glory of the Cathedral of "Santiago de Compostela", slab of Serra Brothers of "Art Museum of Catalonia", etc.

Its members have deep experience in the field of old music, working with groups such as the Nuba Group, Capella Ministrers, Urueña Medieval Quartet, Eduardo Paniagua, Ana Alcaide, Kaléndula, etc.


His repertoire ranges from thirteenth century to fifteenth century (monodic music of the Middle Ages, polyphony of the Ars Nova and early Renaissance) and consists in "Cantigas de Santa Maria", "Llibre Vermell de Montserrat", French, English and Italian dances, stampedes, saltarellos, laments, etc.